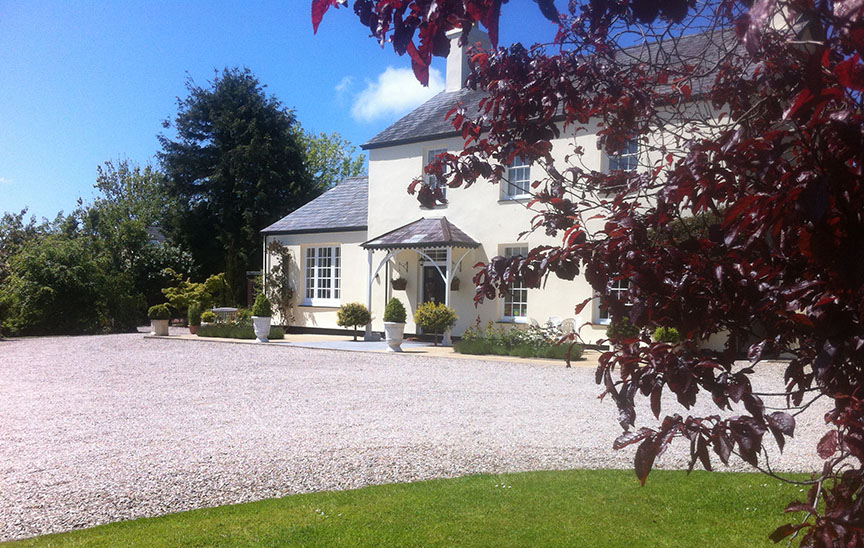 ... is approached along a 200 metre gravelled drive with parking in front of the house. A slight rise of some 20 metres leads up to the double front doors, width 115cm, which has a step of 16cm. A removable ramp is available for access into the house & assistance can be given with luggage on request.
The entrance hall leads to an inner hall with a flight of 17 shallow stairs 20cm deep and 80cm wide with a curved banister and doors to the bedrooms. There are no ground floor bedrooms.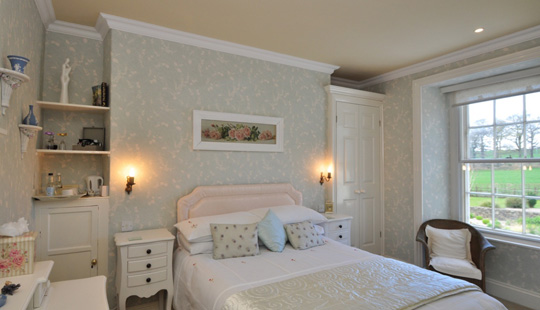 The bedrooms have carpets, plentiful lighting and power points. All have en-suite bathrooms.
Tea trays and complimentary bottled water, sherry and chocolates are provided. Freeview TV's with remote controls are provided in the bedrooms.
There is a ground-floor cloakroom with door width of 72cm and toilet height of 45cm. Assistance dogs are welcomed by prior arrangement.
The dining room and sitting room are situated off the main hall and access is via doorways 80cm wide.
Access to the cottage is up a level concrete path 84cm wide between the garage and the main house which leads through a gate into the cottage garden. Entrance to the cottage is via a porch and stable door 82cm in width into the sitting room which has a level slate floor and large rug.
The sitting room, dining area and kitchen are of an open-plan design with a gas wood-burner effect stove and two sofas. The Kitchen work tops height is 90cm, with a built-in electric hob, fridge and dishwasher and electric double oven with drop-down doors.
Two steps, 22cm in height and 70cm in width, with a hand rail lead up to the slate-floored corridor which accesses the bedrooms and bathrooms which all have doors 70cm in width. There are two bedrooms with wooden floors and rugs, One room has a double bed and the other has two single beds which can be joined to make one super king size bed. Non-feather pillows and duvets with poly-cotton covers and sheets are provided.
The bath height is 54cm and the toilet height is 45cm. The shower room has a walk-in shower, with a step in which is 22cm in height, a small basin and a toilet. The laundry room has a step up of 13cm with a standard size sink unit, washing machine & tumble dryer.
There are ample light switches and power points at a sensible height throughout.
A regular bus service stops 50 metres from the end of the drive & Taxis can also be arranged on request.
Both Gary and Lindsay live on site and are available to assist whenever possible.